Next-gen SMART boat solution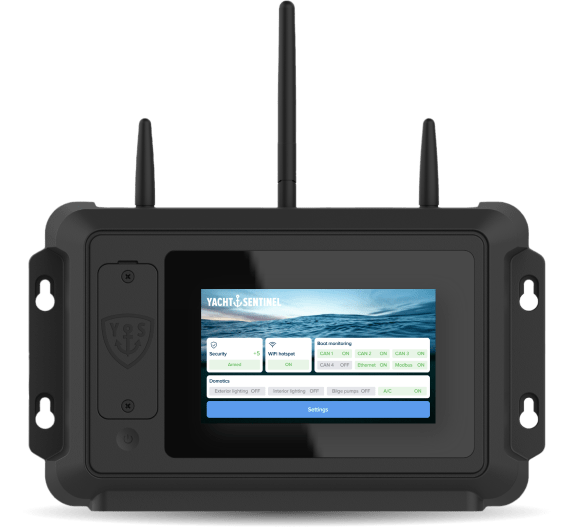 YS Pro is protected by a premium waterproof rugged casing. It includes a high-end touch screen for ease of use.
An 'all-in-one' product combining:
A low power consumption security system
Super low power consumption (<0.3 W)
Large selection of wireless premium sensors with extended battery life using ZigBee 3.0 protocol
Internal alarms include geofencing, battery, tilt, temperature and G-shock alarms
A revolutionary sailing analytics solution
Data collected from NMEA2000, J1939, Ethernet, Modbus and 2 other CAN buses
Smart filtering functions (averages, min/max, etc.)
Coverage in more than 100 countries
Fit-for-all digital switching solution, using either Wi-Fi, BLE 5.0, Zigbee 3.0, NMEA 2000 PGNs or Modbus
12v 24v smart relay available
YS Pro allows users to insert a sim card to act as a high-speed Wi-Fi hotspot
Multiple Sentinel Cam 2 can be paired
A large variety of premium wireless sensors and accessories can be purchased separately
Free CRM system specifically designed for shipyards, dealers and charter companies
Our new user app allows boat owners to receive remotely at any time a wide range of data and alarms, and to benefit from exclusive services
Credibility and industry knowledge
We have been developing connected boat solution since 2008
Data is recorded for months if no coverage
YS Pro combines 4 functionalities: security system, sailing analytics, smart connections & Wi-Fi router
Premium rugged & waterproof casing. Over-the-air software updates
10 different types of sensors and growing
Including a user-friendly app and a CRM product line for businesses called Partner Platform
Fits motorboat & Sailing boats of any sizes
Touchscreen makes YS Pro super easy to setup and to use. Battery consumption < 0.3W
YS Pro only costs 1,590€ + 10€/month
Critical data for your business
Access a wide range of data remotely
Know what's happening on board
Prevent inappropriate behaviours and receive 40+ alarms
Manage maintenance remotely, simplify checkin & checkout procedures
Find out about small issues before they become problems
Collect data & take care of your fleet
Generate reports on our Partner Platform
Useful benefits for users
Receive 40+ alarms if something goes wrong
Know what's happening on board
Peace of mind for boat owners
Get discounts by using our products

TrustPilot
Excellent boat monitoring- Unit is easy to set up and I like the fact that the sensors are wireless — competitor's sensors are wired which is more difficult to position. Customer support is very helpful. They were even willing to get on the phone with me in (their) evening since I'm on the US West Coast

TrustPilot
Great help/support for a trusted product

TrustPilot
Very Happy Customers- We have installed Yacht Sentinel 6 into a few boats in Hong Kong and the owners are more than satisfied with the setup. They can now monitor their boats remotely while accessing data that was previously unavailable without a lot of effort. The simple installation makes it even better.

TrustPilot
Indispensable equipment for a Yacht ! – We are using YS6 for various boats, it is a reliable product which becomes more and more essential for every boats. Indeed, you can check at any time the most important data like the tension of the batteries, the current position of the boat and the possible alerts. But if you don't check by yourself, you receive an alert message on your phone. Thus, a very helpful equipment for a careful owner with a reasonable cost and easy to install!!